About us
The Farrer family has been in the funeral profession since 1860.
The Farrer family has been in the funeral profession since 1860.
Initially this was in the east end of London (North Woolwich, East Ham and Silvertown) and these offices were run firstly by our Great Great Grandfather Samuel J Farrer, then by our Great Grandfather Albert E Farrer.
Frank E Farrer, our grandfather, looked after the business during the war years and brought it to Billericay, together with his son Alan E Farrer, just after the Second World War. Firstly, working with S J Leeds who were carpenters and coffin makers (and lineal descendants of J W Waylett, in Chapel Street) and then purchasing 33 High Street, Billericay in 1953.
Grandfather ran the business together with our grandmother, Alice, and our father until 1980 when he retired due to ill health aged 77.  Dad then looked after the business, together with our mum Betty until 2002 when he retired (although he still pops in everyday to check on us). So, it is now ourselves, the 5th Generation, John, Roy and Janet, who are currently running the offices.
In 2006, we opened a new funeral home in Shenfield after many years of conducting funeral services in the area from our Billericay premises. This was to be able to be closer to the people of the Hutton and Shenfield area.
In 2017, sadly our sister Janet passed away, but we also welcomed the 6th Generation of Farrer's into the company, Becca, Matthew and Sam.
Society of Allied & Independent Funeral Directors.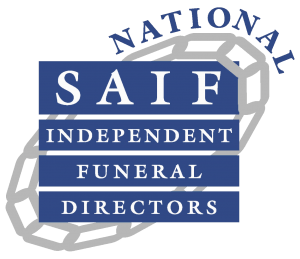 We are proud to be members of this society, the only professional organisation in the U.K exclusively dedicated to serving the local independent funeral directors and their community. As an independent family funeral directors, we are committed to upholding the standards and service expected by the families we serve.